When setting off on a whirlwind European adventure, it's tempting to pack your trip with stops in as many cities as possible. Thanks to popular discount airlines that can get you anywhere on the continent in a span of 1-3 hours, it's easy to become the globetrotter you've always aspired to be. For those who don't have the money for an extra hotel bill or the extra time to spend the night in another city, a day trip is a great option.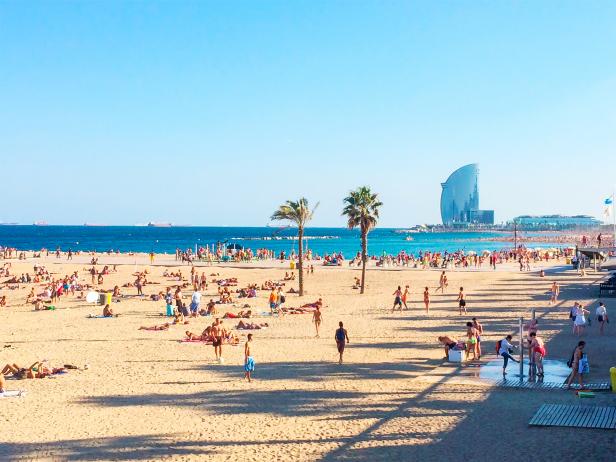 Artur Debat/Moment Mobile/Getty Images
So, what do you do when you find yourself in London for two weeks itching to make your wildest Gaudi-inspired dreams come true? Book a day trip to Barcelona, of course. But here's the catch: with only one flight in and one flight out offered each day, the actual time spent in Barna adds up to a grand total of 7 hours.
Places to See in Barcelona
How does one manage two international flights, along with the must-see attractions and still leave time for meals? With some very thorough planning, careful time management and a little affinity for living life on the edge, here's how you can make your seemingly impossible Barcelona-in-a-day dreams come true.
Plan, plan, plan! I can't say this enough. You need to know how you are getting to and from the city and the airport, how to navigate the metro system, times and locations for everything you want to see and make sure all routes— whether via metro or on foot— are mapped out beforehand. The Barcelona metro makes life easy with a free app that works without Wi-Fi, which is a lifesaver when you are wandering around without phone service.
Make an itinerary and stick to it. Keep in mind you may not be able to spend all the time you want to at every place you go. Regardless of the time crunch, you are still spending the day in Spain, so take the time to appreciate everything and soak it in, but keep up the pace.
Experience Barcelona's La Boqueria
When searching for flights, EasyJet is a great option. Their process is so simple and efficient, and we didn't have any delays or mishaps along the way. In a situation where you're pressed for time, a reliable airline is such a godsend.
The great thing about not staying overnight is that you won't have any luggage, which is a huge time saver when trudging through airport security. Print your boarding passes before you go, check in online and head straight to the departure gates.
London Gatwick was by far the most quick and efficient airport I've ever come through, so we were sitting at our gate eating a quick Starbucks breakfast within half an hour of arriving.
10:40 a.m. – Arrive at Barcelona El-Prat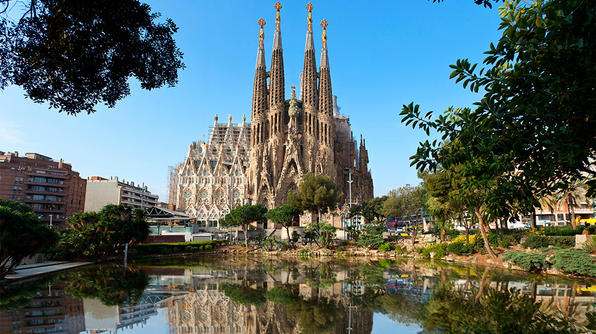 It's safe to say we were spoiled by the speed and ease of our London airport, because landing at BCN was hectic and disorganized from start to finish. When we finally made it to the international arrivals gate, we were greeted by a giant mob of antsy travelers— no authorities or airport employees in sight.
I'll give El-Prat the benefit of the doubt and say that maybe they were just having an off day, but fighting through the mob to get to the actual roped off customs line took about 20 minutes of our precious time. In addition to the initial struggle, when we made it into the line there were people jumping in and out, knocking down the barricades and still no security in sight aside from the single man sitting in the booth at the front. That's right— the single man. It was one against 200. Not a promising start.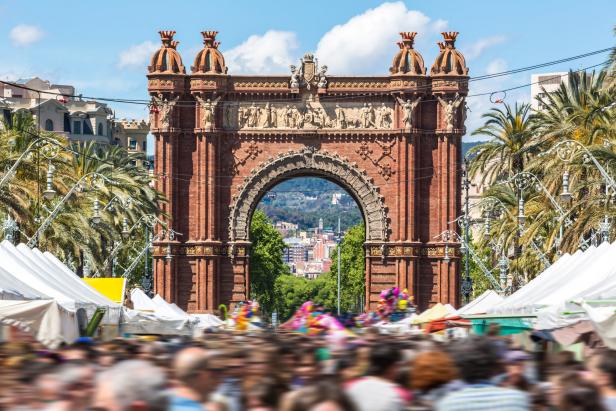 ©iStockphoto.com/querbeet
After we begrudgingly made our way through the rest of security with fresh passport stamps in tow, we were officially off on our Catalan adventure.
11:30 a.m. – Getting to the city center
After following the signs for the metro all the way out of the airport, you'll come to the ticket area with kiosks lining the walls. To get into the city, you will need to purchase a Billete Aeropuerto for €4.50 which is one-time use only and will cover the cost of that specific journey on the L9 Sud line. For the rest of the day, you can use a standard T10 ticket, which I recommend also buying before you leave the airport.
12:30 p.m. – Sagrada Familia Basilica
Barcelona is famously known for being home to the ageless masterpieces of architectural legend Antoni Gaudi. The Sagrada Familia is perhaps his grandest work of all, so it's only fitting that this be your first stop of the day. When you get off the metro, follow the signs that say sortida. These will point you to the way out and will be your friend for the remainder of the day.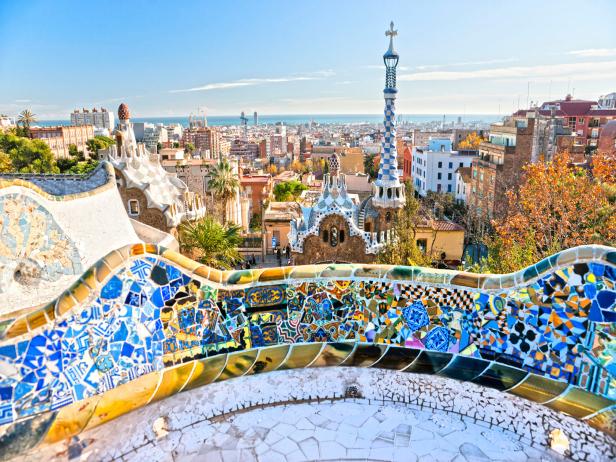 Luciano Mortula, Getty Images
Once you resurface, step back, look up and bask in the glory that is Gaudi. Even though the first brick was laid in 1883, the Sagrada Familia is still only 70 percent finished. The goal is for it to be complete by 2026, but despite the construction, the basilica is still a spectacular sight to behold. Take about 20-30 minutes, soak in the awe-inspiring detail of the ceilings and stained-glass windows, then head to the next stop.
1:15 p.m. – Arc de Triomf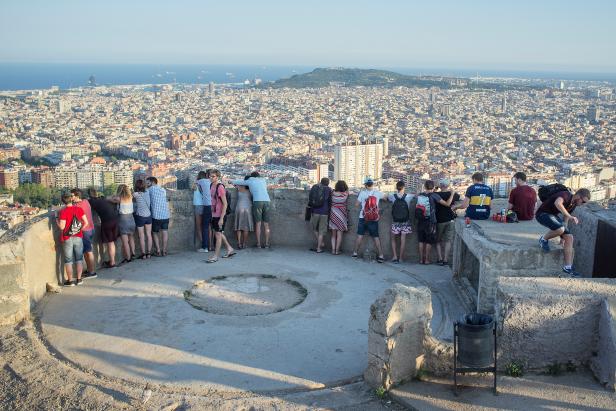 Andrea Baldo/LightRocket via Getty Images
After popping back on the metro for a quick 12-minute journey, you'll arrive at your next stop of the day: the Arc de Triomf. Designed by architect Josep Vilaseca, the structure was used as a grand entrance to the Universal Exhibition when Barcelona hosted the event in 1888. It's quite impressive, so be sure to grab a photo or two for your Snapchat story before heading to the next destination.
1:30 p.m. – Lunch on Las Ramblas
Now for the best part of the day— food! As a first timer in Barcelona, I of course had to seek out some tapas and paella. The key to finding the perfect lunch spot is to make sure it's quick, cheap and easy to find. We sought help from TripAdvisor and picked the number one place on their list: Ultramarinos, conveniently located on the famous Las Ramblas.
10 Gorgeous Boutique Hotels in Barcelona
La Rambla is the central boulevard that cuts through the center of the city and is home to many shops, street performances, food and more. It's actually made up of multiple different ramblas, hence the plural, Las Ramblas. Ultramarinos is toward the south end, so getting off the metro at Liceu should put you just one short scenic walk away. The service is wonderful, the tapas are cheap and the atmosphere is unbeatable. It's a win for everyone.
Also, if you loved the look of the Sagrada Familia, you can find more of Gaudi's work around the Gothic Quarter. Take a short walk over after lunch and check it out. You won't be disappointed.
As if you haven't already gotten enough Gaudi, get ready to fall even more in love. Park Guell was originally the brainchild of entrepreneur Eusebi Guell who asked Gaudi to develop a mountainous estate specifically for well-off families in 1900. Even though it didn't quite go the way Guell had imagined, the park was still beloved by the public, and eventually the city purchased the site and made it a municipal park in 1926. It was declared a UNESCO World Heritage Site in 1984 and remains one of the city's most famous tourist attractions. The view from the iconic benches at the top is incredible, but it doesn't come easily.
To get to the park from the metro station, it's a 15-minute walk up a grueling incline, but luckily they have installed a set of escalators that will carry you most of the way to the top on Baixada de la Gloria. Unfortunately for us, we made the mistake of taking directions from a local and ended up hiking the entire way up the mountain. It's safe to say none of our feet will ever be the same.
Depending on how long you want to spend at other locations, the time you enter Park Güell is really flexible. We booked our tickets beforehand, so we decided to go with a later time to budget for possible late flights or hang-ups elsewhere earlier on.
5:30 p.m. – Optional venture to Bunkers del Carmel
If you find yourself with extra time, I highly recommend taking a quick bus trip from Park Guell to the Bunkers del Carmel. The bunkers were built and used to defend the city from bombings during the Spanish Civil War, and they offer the most spectacular 360-degree view of Barcelona.
It is quite a physical venture to get to the top, but once you make it you'll see that it is completely worth the struggle. After you're finished here, catch the V17 bus back toward the Vallcarca metro station and start the trek back to the airport.
Our flight was scheduled to depart at 8:30 p.m., so we made it our goal to be at the airport around 7 p.m. From the Vallcarca station, it is about a 45-minute journey back to El-Prat. Once you get there, have your tickets ready and head straight for the departure gates. Luckily BCN was more efficient going out than when we came in, so it only took us about 20 minutes to get in and get through security.
If you need a quick spot for dinner and find yourself in terminal 2 cringing at the overcrowded Burger King, I recommend the Dehesa Santa Maria café. It's fast, has a variety of choices and isn't terribly expensive for already overpriced airport food. It has plenty of open seating as well as great grab-and-go options if you are in more of a hurry to catch a flight.
Once you make it to your gate, it's finally time to sit back, craft a celebratory Instagram post and breathe a huge sigh of relief. Take the time to reflect on the day and all the no-doubt hilarious anecdotes you'll have to write home about. Despite the stress and the inevitable exhaustion the endeavor will cause, "Remember when we took a 7-hour trip to Spain?" will always be a great conversation starter.