Traveling around New Zealand, I've made it a goal to stay at a variety of different hostels. I didn't want to just stay at the chains like Base or Nomads. I wanted to see small operations besides just big chains. I quickly found out, though, that most of New Zealand is dominated by chains such as YHA, Base, or Nomads. And all the buses affiliate with them, making them the most convenient place to stay. Overall, I found the majority of the hostels to be average, but there are five that blew me away and that I think everyone should make a point to stay at:
Nomads, Queenstown


One of the most amazing hostels I've ever stayed at (and I've stayed at a lot of hostels). The place is brand new, so everything is fresh and clean. They have a ton of computers, most rooms have balconies, the showers have great water pressure, and the pillows are thick. The manager told me they change them every few months to keep them fluffy. How about that for service? But what really sets this place apart is the HUGE kitchen and common area. Moreover, unlike most hostels in New Zealand, you can drink, which means everyone stays around socializing at night instead of going out. They host activities every night (including a $10 pub crawl) and a free dinner and quiz night on Sunday. Not one traveler I spoke to wanted to leave this place. If you only stay in one hostel in NZ, stay here. I still miss it.
Rainbow Lodge, Taupo


This is my second-favorite hostel after Nomads. They have a huge kitchen, common room, a grill, an outdoor lounge, friendly staff, and free bike rentals. In short, they know what budget travelers like in a hostel. I had a great time there and met a lot of solo travelers. Many hostels get travelers on tour buses, but this one doesn't align with any of the big backpacker buses, which means you see a lot more solo travelers here than you do elsewhere.
Pipi Patch, Bay of Islands


The Pipi Patch is an old converted motel and part of the Base hostels chain. To be honest, I don't like Base hostels. It's not that they're really bad in any way, they just aren't great. They're like the McDonald's of hostels. You go there because it's easy, convenient, and you know what you're getting. On the plus side, the backpacker buses like the Kiwi Experience drop people off there, so you'll be with your friends. However, the Pipi Patch was different than the rest of the Base hostels I stayed at. They have a common room that's big enough to fit a lot of people but small enough to force you to socialize, a big kitchen (with an oven), an outdoor patio, and all the rooms are ensuite. Plus, there's a pool. I like hostels with character and this one had a lot of it.
Kiwi Paka, Waitomo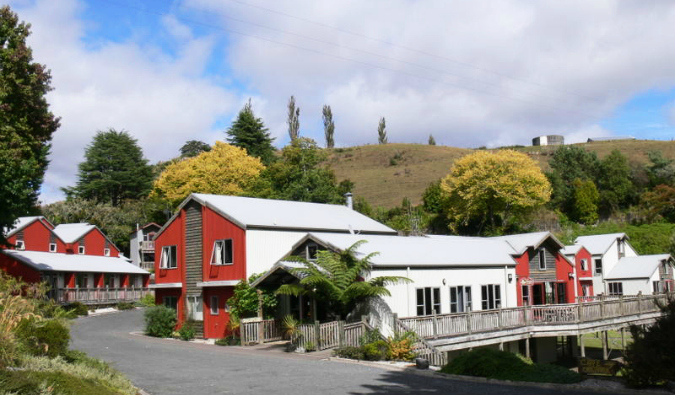 A clean and well-kept hostel. There's nothing mind-blowing about this place, but they have a great outdoor porch overlooking the area and a good restaurant. What I really loved was the water pressure in the showers (I think it took a few layers of skin off) and the fact that all the dorms have single beds. No bunk beds here. And the beds themselves are very comfortable. The Kiwi Paka is a good spot to get a good night's sleep, and as a traveler in hostels, you have few opportunities for that, so it's nice when it happens.
River Valley Lodge, River Valley


This is a stop on the Kiwi Experience. You wouldn't stay here otherwise unless you were on a romantic getaway. More like a lodge than a hostel, what makes River Valley great is its location. Sitting outside on the patio, you can hear the river go by as you gaze upwards at the surrounding valley. Moreover, there's a spa, sauna, and jacuzzi. There are great walks here, and since there's no light at night, it makes for a great place to look up at the stars. This is very much a place to go if you have some extra money to burn, but even if you're on a budget, they have dorm rooms for you!
For more information, visit my guide to New Zealand travel.
(Note: Both Base and Nomads gave me free accommodation throughout New Zealand. )