As I buried my face into the piping hot crêpe, I couldn't help but realize how much I eat when I visit Europe. After gorging on Nutella, cheese, sausage, beer, pasta, goulash, or whatever else is put in front of me as I traverse the continent every summer, my bikini body needs some work. Europe has just too many world-class places to eat, drink, and be merry!
But, as I took that second bite, I thought, "Screw it. Bring me a second crêpe. You only live once!"
And so I continue eating my way across the continent.
A few years ago, I listed my favorite restaurants in Europe, but since that time, I've eaten a lot of food at a lot of new restaurants. I've been to new cities, countries, and locales that deserve some culinary attention, so today, it's time to share a second list of eateries in Europe that — while they may ruin your bikini body — will bring you a lifetime of bliss and memories:
Note: I included a few favorites from my old list (which you can visit here) because I eat at them over and over and over again!
Le Dit Vin (68 Rue Blanche, Paris)
I stumbled across this restaurant while looking for a place to eat near my Airbnb. I spied lots of wine bottles on the wall and someone eating cheese and thought "PERFECT!" It was an incredible find. The prices are reasonable (under 15 euros [$16 USD] for a meal), there is a large wine selection (it's Paris, of course!), and the food is rich, savory, and delicious. The menu changes daily depending on what's fresh, so all I can really recommend as a constant is the cheese plate.
Moeders (Rozengracht 251, Amsterdam)
Meaning "mothers" in Dutch, this restaurant is famous for serving traditional Dutch cuisine. It's a small place (you'll want to make reservations) filled with portraits of people's mothers (feel free to add to their collection!) with outdoor seating in the summer. The best value is the Dutch sampler for two, where you can sample a heaping of traditional Dutch food, including lots of potatoes, cabbage, and meat. The fish of the day is always a winner, as is their carpaccio, spare ribs, and hotchpotch (a thick stew with vegetables and meat). A main will set you back 15-20 euros ($16-22 USD) but it's worth the price!
U Medvídku (Na Perštýn 7, Prague)
This restaurant is one of the oldest in the city and somewhere I take my tour groups every year. Czech food is heavy on the meat and potatoes, and this spot is no exception. Here you can find a mouthwatering selection of home-brewed beer, heavy goulash, thick potato dumplings, duck, and perfectly cooked pork. Portions are huge (the pork knee is really for two). Prices are 120-200 CZK for a meal. (Another excellent place that serves traditional food is Kravin (Námstí Míru 109/18, Prague), which is a popular after work drinks destinations).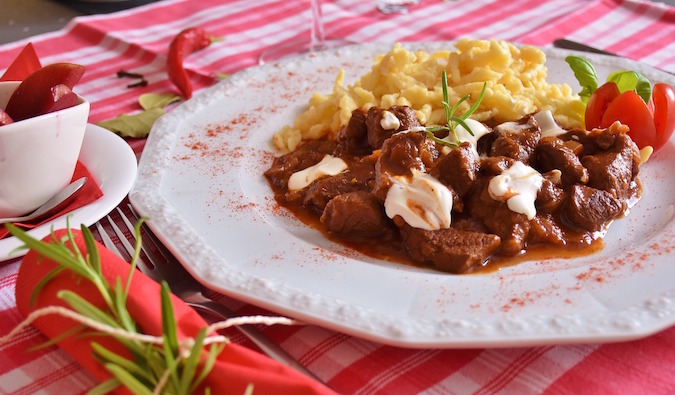 The Naschmarkt Vienna
Centrally located near the main ring road of Vienna, this outdoor market is lined with restaurants, cafés, and wine bars and is popular with locals and — thanks to lots of mentions in guides and blogs — tourists alike (yes, I'm doing my part!). You'll be able to choose from a selection of kebab vendors, snack shops, and vegetarian restaurants. (You'll also find food stalls selling vegetables and deli goods, but prices are higher than other markets in town so I wouldn't recommend getting those things here.) On a warm day, I love coming here and eating outside and having a glass of wine.
Der Wiener Deewan (Liechtensteinstraße 10, Vienna)
This all-you-can-eat, pay-what-you-want Pakistani restaurant is popular with students (and cheapos like me; most people pay 5-10 euros for their meal). It's also insanely tasty, serving up daal, naan, salads, chicken, chutney, and at least a few other dishes (usually around six total) each night. Because it is so cheap and tasty, it is always crowded, so if you're a big group or going during peak eating hours, you'll most likely need to wait for a seat. I visit every time I'm in Vienna.
Aneka Rasa (Warmoesstraat 25-29, Amsterdam)
There's a lot of Indonesian food in Amsterdam, given their past colonization of the country. While there are many options in the city, I like this one the best because you get a lot of food for your money and it's a great place for groups. You can order the sampler platter (about 10 dishes) for 20 euros ($21 USD) per person. You'll leave full and with leftovers for later. I'm especially addicted to the rice cakes they bring out as an appetizer.
Leo Burdock (4 Crown Alley, Temple Bar, Dublin)
This well-established restaurant (over 100 years old!) serves fantastic fish and chips. It's simple, easy, and delicious. Unlike a lot of other fish-and-chips shops, I didn't find the food here too oily; it was perfectly fried and crisp. They don't have an extensive menu, instead focusing on making a few dishes incredibly well. At 10 euros ($11 USD) for fish and chips, it's a delicious place for an affordable and filling lunch. There are four Leo Burdock locations in and around Dublin.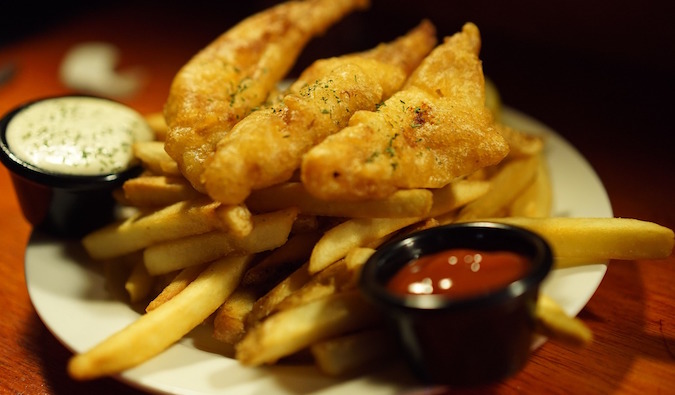 The Laundromat Café (Austurstræti 9, Reykjavík)
This cute café right on the main drag is famous and serves what I can only call American fare: burgers, pasta, sandwiches, and salads. While expensive (it's Iceland, yo!), it's also damn tasty. They offer excellent coffee and pastries, and you'll find lots of people reading and writing in their comfy chairs and at tables.
Sægreifinn – The Sea Baron (Geirsgata 8, Reykjavík)
Turns out one of my readers in Iceland happens to be a government official, and when she took me here, I knew it had to be good. This tiny, hole-in-the-wall seafood place serves thick lobster soup with huge chunks of lobster and nice creamy broth. I've since heard it's pretty famous, but when we went, there were no crowds and only Icelanders there. Regardless of who frequents it now, it's delicious and shouldn't be skipped.
Berlin's Thai Market 
I've been a Thai food snob ever since living in Thailand. Even the best places in the world make me go "meh," but this weekend food market (though there are some weekday vendors) sees Thais setting up mini stalls and selling street stall–style food just like they do back home, unencumbered by German regulation. It's the most authentic Thai foodI've found outside Thailand (and it's super cheap at only a few euros per dish). Here you can gorge on pork noodle soup, som tam, Thai ice tea, and real street-style pad gra pow! Heaven!
Vinograf Míšenská (Míšenská 8, Prague)
More of a wine bar (featuring hundreds of Czech vintners), they make the list because they do serve a yummy cheese and meat plate, too! The small, intimate setting with walls covered in wine bottles offers a quite respite from the noise of the streets.
Txalaka (Carrer Bonastruc de Porta, Girona, Spain)
Oddly located near a big car park and away from the town's downtown, this restaurant serves buffet-style tapas: you just go and pick what you want. Most dishes are only a few euros and the selection is extraordinary — it's pretty much every tapa you can imagine (I especially liked the shrimp). Grab some food, sit out side with your friends, drink a glass of wine, and eat at one of the best spots in the city.
Hermans (Katarina, Sofia Fjällgatan 23B, Stockholm) 
This is an all-you-can-eat vegetarian buffet overlooking the harbor. Even though meat isn't on the menu, the food is worth coming for. You have a wide selection of ever-changing options: healthy salads, home-cooked warm breads, hot dishes, a smorgasbord of fruits, and lots of desserts. Their 100 SEK ($11.50 USD) lunch buffet is extremely popular and fills up fast. Get there early. If you have a large group, you'll need to make reservations. During the summer months, there's outdoor seating.
La Crêperie des Arts (27 Rue Saint-André des Arts, Paris)
Located on the Left Bank near the Saint-Michel–Notre-Dame train station, this tiny to-go crêperie is the best one in all of Paris (in my opinion). The banana Nutella crêpe is my favorite. Cheap, savory, and with large portions — you can't go wrong here.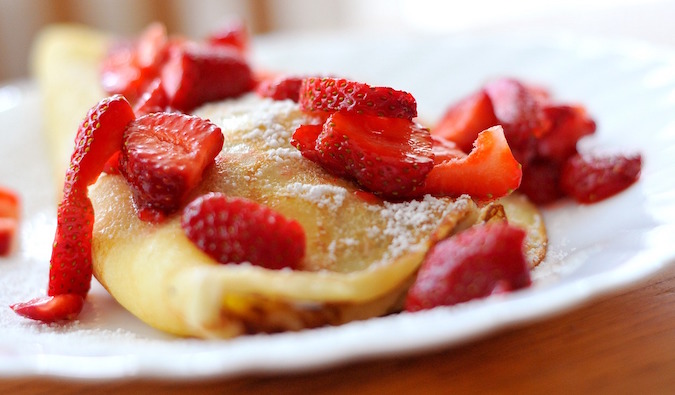 Pancakes! (Berenstraat 38, Amsterdam)
This spot serves traditional Dutch pancakes: large thin, crêpelike pancakes with tons of tasty toppings (I'm a big fan of the strawberries and whipped cream!). It's small, so try to avoid peak eating times as the wait can get quite long. Large portions make this place worth your time and money. Most pancakes are around 8 euros ($8.50 USD).
Café de Jaren (Nieuwe Doelenstraat 20-22, Amsterdam)
Serving typical café food (soups, salads, sandwiches), this place is located on the main Amstel canal, with an incredible view of the city. It has an awesome outdoor area, serves beer, and has Wi-Fi in case you want to work! I love coming here to sit, relax, and enjoy the view!
Jeanne A (42 Rue Jean-Pierre Timbaud, Paris)
This eat-in épicerie and wine shop offers country-style food (especially meats and cheeses) and is my favorite spot in Paris. The prix-fixe menu offers the best value at 30 euros ($32 USD) for dinner with an appetizer and main dish. Be sure to try their lamb and duck — they are famous for it!
Café Père & Fils (86 Rue Montmartre, Paris)
Located in the heart of Paris, this is a Parisian brasserie and coffee shop with outdoor seating for lunch and drinks. It gets busy on warm, sunny days when all the nearby office workers take over the patio for lunch. There are daily happy hours and brunch on Sunday.
I'm no food writer, so my descriptions may not conjure up images worth salivating over, but trust me when I say these places are worth a visit. When I travel, I eat at a lot of random, suggested, and guidebook-listed restaurants. Not every one is a winner and, even if it's good, it may not knock my socks off. These, though, knock both my socks off, put them back on, and knock them off again.